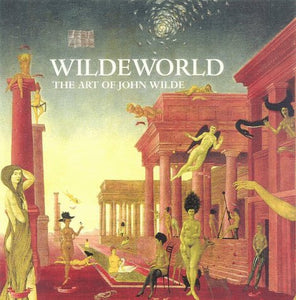 Wildeworld: The Art of John Wilde
John Wilde (1919–2006), was inspired by the early Renaissance, and is credited with reviving the tradition of silver point drawing. Wilde was a painter, draughtsman and printmaker of fantastic imagery. Wilde lived most of his life in Wisconsin, save for service in the U.S. Army during World War II. He received bachelor and master degrees in art from the University of Wisconsin–Madison, where he taught for some 35 years. Wilde was associated with the Magic Realism movement and Surrealism in the United States. His darkly humorous figurative imagery often included self-portraits through which he interacted with the people, animals and surreal objects that populate his fantasy world.
Wilde's artwork is in the collections of museums throughout the United States, including the Art Institute of Chicago, the Carnegie Museum of Art in Pittsburgh, Pennsylvania, Pennsylvania Academy of Fine Arts in Philadelphia, Santa Barbara Museum of Art, Smithsonian American Art Museum, Walker Art Center in Minneapolis and the Whitney Museum of American Art in New York. In his home state of Wisconsin, Wilde is represented by work in many collections, including the Madison Museum of Contemporary Art, the Chazen Museum of Art at the University of Wisconsin–Madison, the Milwaukee Art Museum, the Racine Art Museum, and the Leigh Yawkey Woodson Art Museum in Wausau, Wisconsin.
Wildeworld was written by Theodore Wolff and published by Hudson Hills Press, New York in association with the Elvehjem Museum of Art (1999).
180 pages
RAM MEMBER PRICE: $45.50
---
We Also Recommend