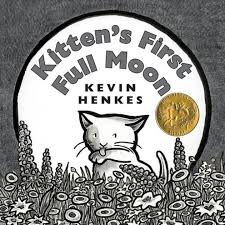 Kevin Henkes—Kitten's First Full Moon
The renowned Wisconsin children's book author and illustrator Kevin Henkes created this acclaimed national bestseller about a kitten, the moon, and a bowl of milk. Kitten's First Full Moon is an acclaimed modern classic, from one of the most celebrated and beloved picture book creators working in the field today. This memorable character and her suspenseful adventure are just right for the very youngest child. It is Kitten's first full moon and when she sees it she thinks it is a bowl of milk in the sky. And she wants it. Does she get it? Well, no... and yes. What a night! 
This book was awarded the prestigious Caldecott Medal and was a New York Times Best Illustrated Book award recipient, received ALA Notable Book status, and was a winner of the Charlotte Zolotow Award.
Paper and board
10 1/4 x 10 1/4 inches
RAM MEMBER PRICE: $16.20
---
We Also Recommend