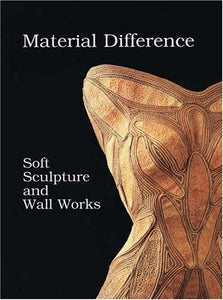 Material Difference: Soft Sculpture and Wall Works
There are no limitations in contemporary art making when it comes to "appropriate materials or media." For example, this richly-illustrated book showcases sculptures depicting the human form that were constructed from sticks, cantaloupe peels, and beads. Interiors of five collectors' homes are presented showing the pleasure and comfort the owners derive from living with their handsome, provocative, even surreal possessions.
Material Difference: Soft Sculpture and Wall Works features objects produced between the mid-twentieth to the early 21st centuries by an international group of creators whose work has been accepted into private and public collections around the world. The artists represented mined (and modified) traditional techniques from fields outside painting and sculpture—especially textile arts. Crocheted thread, twisted wire, embroidered drawings, woven hangings, stapled photographs, zippered wood, burlap, and knotted maps are used in some of the pieces. A diverse palette of animal products are also employed, including exotic feathers, human hair, fish skin, hog casing, and egg shells.
Features essays by Polly Ullrich and Camille Cook.
RAM MEMBER PRICE: $22.50
---
We Also Recommend