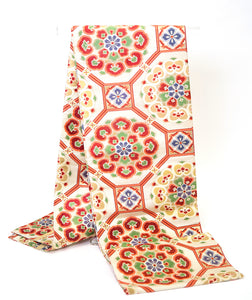 Vintage Obi Sash
An obi is a sash worn alongside traditional Japanese clothing, serving as a sort of belt that is wrapped around a kimono. Many obis are made in brocade fabrics with metallic threads, and are often double-sided. RAM's selection of Japanese import obis include many unique and one-of-a-kind examples—some dating back to World War II and before.
The basic fukuro obis are double-sided and made by folding or sewing two pieces of cloth together; more recent examples are bolder in color and reverse to black. We offer maru obi, when available, which are more formal, larger, older, and more unique.
Don't own a kimono? The intense colors, patterns, and textures makes this obi perfect for use as a table runner or wall hanging!
Because this is a vintage item, there may be some slight signs of wear.
Red, pink purple, green on beige
Silk, metallic thread
13 feet x 12 1/2 inches
Dry clean only
RAM MEMBER PRICE: $216
---
We Also Recommend