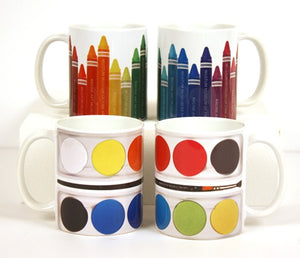 Racine Art Museum Mugs
These limited edition RAM ceramic mugs are perfect for those that enjoy coloring inside—or outside—the lines. One  mug has a rainbow array of crayons, or you can select the  tray of watercolor paints that might have you longing for a coloring book with your morning coffee or tea. Both images wrap around the mugs.
Each crayon is labeled Racine Art Museum or Wustum Museum of Fine Arts. If you look closely, the brush says RAM's Wustum Museum of Fine Arts. These mugs are great for artists and art appreciators alike. The gorgeous colors will help anyone start their day on a happy note.
Ceramic
4 x 3 inches
RAM MEMBER PRICE: $10.80
---
We Also Recommend