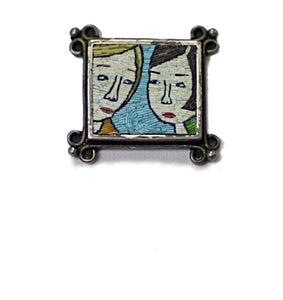 Cynthia Toops—Conversations Pin
Cynthia Toops lives and works in Seattle, sharing a studio with her husband, glass artist Dan Adams. Collaborations are a constant part of their work. Along with her husband with whom she spends long hours researching, planning, and collaborating with metalsmiths Nancy Bonnema, Chuck Domotrovich, Juan Reyes, and others.
Toop's is best known for her time-intensive figurative and abstract micro-mosaics constructed of polymer. While her micro-mosaics are in the tradition of Huichol Indian seed beads and ancient Roman micro-mosaics, their colors and illustrative qualities are of her own design. A world traveler and collector, Cynthia's work is influenced by her fascination with ethnic and folk art. Her academic background includes studies in biology and printmaking. Her work is included in major museums across the country including the Tacoma Art Museum, WA, Boston Museum of Fine Art, MA, New York Museum of Art and Design, NY, Philadelphia Museum of Art, PA, and the Racine Art Museum, WI.

Polymer and sterling silver
1 1/4 x 1 1/4 x 1/4 inches
RAM MEMBER PRICE: $382.50
---
We Also Recommend