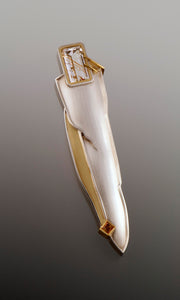 Eleanor Moty—Transient Light Brooch
Looking into an Eleanor Moty brooch is like gazing at a landscape or standing in a grand architectural space. Combining unparalleled craftsmanship and attention to detail with a spare, sculptural design esthetic, she creates magical brooches that begin with a specially selected single quartz crystal.
—Bonnie Levine, Hedone Gallery
Moty is widely recognized for her interest in new techniques and interdisciplinary approaches to jewelry making. She is an authority on electroplating and photo-etching, processes on which she has published and lectured extensively. Her subtle, immaculately crafted work is inspired by architecture, geometry, chemistry and art. Combining complexly cut precious and non-precious stones, her supremely elegant pieces' reward close attention.
Trained as a metalsmith and an artist, Moty received her BFA from the University of Illinois and her MFA from Tyler School of Art, Temple University. She has recently retired from a professorship at the University of Wisconsin-Madison, where she taught for 28 years. Moty is the recipient of two craftsman's fellowships from the National Endowment for the Arts and her works have been exhibited in museums and galleries all over the world. Her most recent solo exhibition took place in 2012 at the National Ornamental Metal Museum in Memphis, TN. She is the subject of numerous articles and is represented in the permanent collections of the Philadelphia Museum of Art, The Museum of Fine Arts, Houston, the National Museum of American Art, Smithsonian Institution, in Washington D.C., and the Racine Art Museum.
She is the recent focus of Quiet Elegance: The Jewelry of Eleanor Moty, a hardcover monograph recently issued by arnoldsche with essays by Helen W. Drutt English, Matthew Drutt, and Bruce W. Pepich.
Sterling silver, 22K and 18K gold, limonited topaz, topaz
3 3/4 inches high x 7/8 inches wide x 5/8 inches deep

Given the value of this piece, RAM Members must call the RAM Museum Store at 262.638.8200 to discuss their members' discount.
---
We Also Recommend