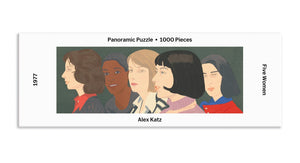 Alex Katz—Five Women Panoramic Puzzle, 1,000 Pieces
An iconic image of five women in this famous Alex Katz painting from the collection of the Museum of Modern Art. Katz, an American figurative artist and icon is known for his paintings, sculptures, and prints of flat non-dimensional figures. Katz's work is in the collections of over 100 public institutions worldwide, including the Museum of Modern Art, NY; the Metropolitan Museum of Art, NY; the Whitney Museum of American Art, NY; the Smithsonian Institution, Washington, D.C.; the Carnegie Museum of Art, Pittsburgh; the Art Institute of Chicago; the Cleveland Museum of Art; the Tate Gallery, London; and the Centre Georges Pompidou, Paris.
Each piece is printed with no-glare, non-toxic inks, and there is no puzzle dust. Each of the 1,000 puzzle pieces are thick and sturdy, with a white matte finish on the back side.
Completed puzzle size: 39 x 14 inches; Box size: 14 x 5 x 2 3/4 inches
RAM MEMBER PRICE: $18
---
We Also Recommend