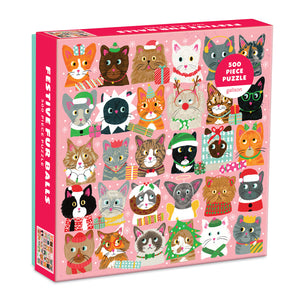 Festive Furballs Puzzle, 500 Pieces
Festive Furballs! There are thirty fun and unique cats featured on this 500-piece puzzle. Enjoy a cup of hot chocolate or egg nog as you piece together each feline's lovable face! The puzzle comes packaged in a sturdy matte-finish box, perfect for gift giving and storage.
Liza Lewis is a freelance graphic designer and illustrator. Originally from Belgium, she now lives in Southampton, England, and works from her home studio, where she creates fun, quirky illustrations and unusual children's designs—including the silly kitties on this puzzle.
Box: 8 x 8 x 2 inches; Finished puzzle: 20 x 20 inches

RAM MEMBER PRICE: $12.60
---
We Also Recommend