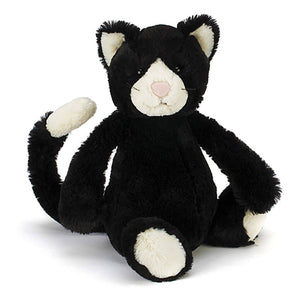 Jellycat—Bashful Black and White Kitten
Jellycat's Bashful Black and White Kitten is the most splendid tuxedo cat! They love to groom their soft, silky fur, from snowy tail tip to black and white ears. Bashful Black and White Kitten is particularly fond of a catnaps, and will always sit properly thanks to the beans in their bottom.
These squishable stuffed animals are designed by Jellycat in England. The exquisitely detailed plush fabric guarantees that children and adults alike will fall in love with these cute critters.
Jellycat animals are not fond of washing machine baths—instead, hand wash or spot wash them. These adorable stuffed animals are suitable for young children but we suggest not leaving them in a crib with an infant.
RAM MEMBER PRICES: $22.50
---
We Also Recommend