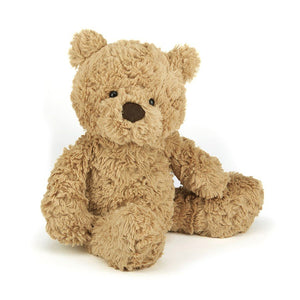 Jellycat—Bumbly Bear
Jellycat's sandy, dandy teddy, Bumbly Bear is simply snuggly. They're a ruffly, fluffy fellow with an extra-long snout to replicate a vintage style—a classic bear with a modern twist. Bumbly Bear has a large head and tummy and chunky feet that make them just the chap for bedtime hugs. Add in the tufty ears and chocolate-drop nose and it's clear that Bumbly Bear is a bear necessity!
These squishable stuffed animals are designed by Jellycat in England. The exquisitely detailed plush fabric guarantees that children and adults alike will fall in love with these cute critters.
Jellycat animals are not fond of washing machine baths—instead, hand wash or spot wash them. These adorable stuffed animals are suitable for young children but we suggest not leaving them in a crib with an infant.
RAM MEMBER PRICES: $34.20
---
We Also Recommend