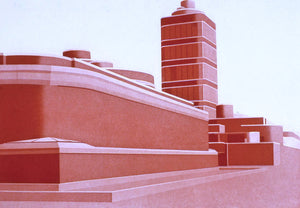 Frances Myers—Johnson Wax Building Print
Frances Myers (1936–2014) had a strong fondness for architecture, particularly the innovative Johnson Wax building designed by Frank Lloyd Wright.
Myers executes her work with tonal gradations in an aquatint etching process. During a long career, as an artist and teacher at UW-Madison, her work has incorporated a wide variety of printmaking techniques including relief, photo-etching, and mixed media processes. Frances Myer's admiration of Wright and his architecture came in her early years growing up in Racine, Wisconsin—home to the SC Johnson Wax building and Wingspread.
This edition of 50 was commissioned by Karen Johnson Boyd around 1980—independently of the portfolio of six Myers prints—in support of the Frank Lloyd Wright Foundation. The color of this print—which comes unframed—is different than the one in the portfolio, with a more blueish red on the building.

Aquatint Etching on paper
Image size: 19 3/4 x 25 1/2 inches; Paper size: 26 1/2 x 37 inches
RAM MEMBER PRICE: $720
---
We Also Recommend