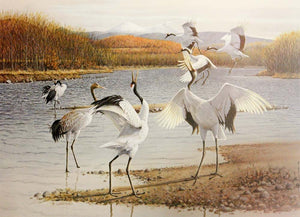 Owen Gromme—Tancho Sacred Cranes
Born in Fond du Lac, Wisconsin, Owen Gromme (1896–1991) went to work at the age of 21 as a taxidermist at the Field Museum of Natural History in Chicago. After World War I, Gromme worked at the Milwaukee County (now Public) Museum as a taxidermist, collector, photographer, botanist, sculptor, and finally curator of birds and mammals. He retired in 1965 to devote full time to painting. He first gained acclaim in 1945 when he won the Federal Duck Stamp competition. In 1963, Gromme completed to world acclaim a volume of scientific paintings called Birds of Wisconsin.
Gromme's reputation as a painter of wildlife art, prints and posters enabled him to bring attention and action to important conservation issues such as legislation to protect birds, the protection of the Horicon Marsh, and the formation of the International Crane Foundation. Gromme served as president of the Wetlands for Wildlife organization and was among the first to crusade against the use of chemicals.
This offset lithograph by Gromme is from an edition of 950 that was printed in 1981. Each print is 20 1/2 inches high by 28 inches wide, and ships rolled.
RAM MEMBER PRICE: $315
---
We Also Recommend