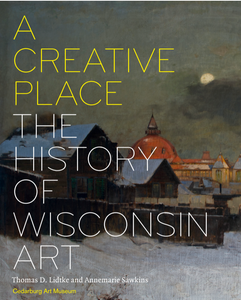 A Creative Place: The History of Wisconsin Art
A Creative Place: The History of Wisconsin Art is the first scholarly book to encompass the 13,000-year history of art in Wisconsin, in all its richness and complexity. This book features seven chapters and more than 400 high-quality images, elevating visual art to its rightful place in the proud culture of this State.
From the caves of prehistory through the present, follow a trail of creative endeavors in every corner of the State as A Creative Place presents a succession of styles and art movements in Wisconsin's art history. More than 500 of this region's most talented artists, working in all media and styles, are featured from prehistoric to video art and academic works to outsider pieces. The book is a great chronicler of the State's history, as seen through the prism of its artistic production.
This well researched volume is published by the Cedarburg Art Museum and authored by Tom Lidtke and Annemarie Sawkins with scholarly and creative input from professionals across the state. Lidtke, a former art instructor and artist, was pivotal in West Bend's Museum of Wisconsin Art. Annemarie Sawkins is a Milwaukee-based curator, art historian, and author who has curated exhibitions for numerous museums across the United States.
The 400+ lavish illustrations help bring this book to a hefty 8.5 lb weight. A Creative Place is a great gift for anyone who loves Wisconsin and its art scene.
RAM MEMBER PRICE: $84.50
---
We Also Recommend