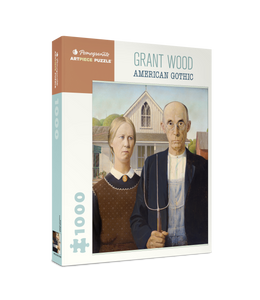 American Gothic Puzzle, 1,000 Pieces
Grant Wood's American Gothic was exhibited publicly for the first time at the Art Institute of Chicago and won him a $300 prize and instant fame. While visiting the small town of Eldon, Iowa, Wood spotted a little wood farmhouse with a single oversized window that was created in a style called Carpenter Gothic. He used his sister and his dentist as models for a farmer and his daughter, dressing them as if they were "tintypes from my old family album." After returning to settle in Iowa, he became increasingly appreciative of Midwestern traditions and culture, which he celebrated in works such as this. American Gothic, often understood as a satirical comment on the Midwestern character, quickly became one of America's most famous paintings and is now firmly entrenched in the nation's popular culture.
Enjoy hand-building Wood's famous painting with this delightful 1,000 piece puzzle.
Paperboard
Completed puzzle size: 20 x 25 inches; Box size: 10 x 13 x 1 7/8 inches
RAM MEMBER PRICE: $18.90

---
We Also Recommend