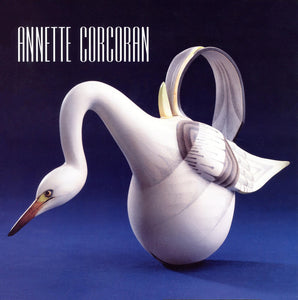 Annette Corcoran: Birds & Teapots, 1987–1996
Annette Corcoran was born in Inglewood, California. She earned a B.A. from the University of California, Berkeley in 1952, and continued post-graduate studies at California State University, Long Beach; California Polytechnic State University; Saddleback College; and the College of Marin. She worked as a graphic artist for 15 years before turning to ceramics, and has since spent the last 50 years making ceramic teapots. Although originally functional, these teapots evolved into non-functional works of art.
Corcoran's fine work can be found in the permanent collections of the Los Angeles County Museum of Art; Philadelphia Museum of Art; Oakland Museum; Contemporary Art Museum, Honolulu; University of Arizona, Tucson; Racine Art Museum; Everson Museum; Newark Museum; and the Museum of Fine Arts, Boston.
This 20-page softcover book features 20 full-color illustrations of Corcoran's teapots, and also includes the artist's resume.
8 1/2 x 8 1/2 inches
RAM MEMBER PRICE: $36
---
We Also Recommend