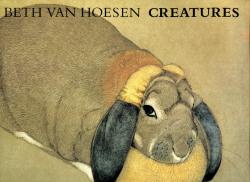 Beth Van Hoesen: Creatures
This book is filled with prints and drawings of printmaker Beth Van Hoesen's (1926–2010) most well-known characters. Van Hoesen made a career of observing creatures—in casual and informal moments—drawing nudes and teddy bears, vegetables, fruits, flowers, wild animals, and family pets.
Van Hoesen and her artist husband Mark Adams settled in a legendary San Francisco firehouse where she would spend more than 50 years making modern traditional prints. In these elegant and simple works, she sought the economy in the refined line, never content until a print was just right and the essence of her subject had been perfectly, cleanly expressed. 
0.8 x 12.5 x 10.5 inches
104 pages
Hardcover
© 1987
RAM MEMBER PRICE: $45
---
We Also Recommend