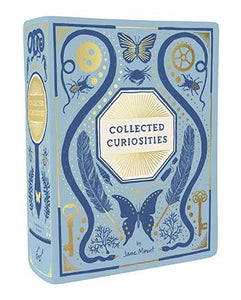 Bibliophile Ceramic Vase—Collected Curiosities
This ceramic vase adds literary charm to any room. Fill it with fresh flowers or use it to organize pencils, pens, rulers, quills, or other curiosities. Illustrated by avowed bibliophile Jane Mount and adorned with elegant touches of gold, it's the perfect gift for book lovers. 
Features an inspiring quote by Louisa May Alcott on the back: The power of finding beauty in the humblest things makes home happy and life lovely.
The vase measures 5 x 6 1/2 x 2 1/4 inches 
Blues and gold foil
Ceramic
5 x 6 1/2 x 2 1/4 inches

RAM MEMBER PRICE: $26.96
---
We Also Recommend