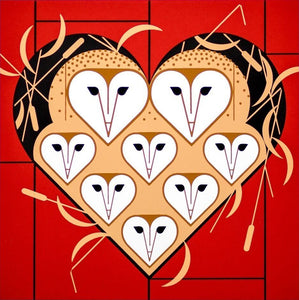 Charley Harper—Vowlentine
Charley Harper (1922–2007) was a modernist painter and graphic designer known for his stylized and abstract illustrations of birds, animals, fish, and insects. He gained acclaim as a commercial illustrator in the 1950s with the publication of The Golden Book of Biology which featured his interpretations of a wide range of the earth's creatures. The response to his book illustrations was so positive, it led to his successful silkscreen printmaking career. Birds were his favorite subject matter and Harper's images have appeared in nature-oriented magazines and on posters, as well as in a number of books including The Animal Kingdom, Birds & Words, and Beguiled by the Wild: The Art of Charley Harper. During his career, Harper designed over 50 posters for non-profit conservation groups, nature centers and zoos, United States national parks and monuments, and international wildlife sanctuaries and biosphere preserves.
Harper called his style minimal realism. His approach to wildlife art was to create dynamic compositions that emphasized colors, shapes, and patterns rather than depicting every feather on a wing as previous naturalists had. He is known for capturing the essence of his subject with the fewest possible visual details and Harper's simplified animal elements often fill visually complicated graphics. Harper's work has experienced a renewed interest on the part of collectors and his designs are also showing up on a variety of household goods including glassware, ceramic tabletop items, and textiles.
We are delighted to offer a select group of vintage prints through the Museum Store. Harper prints are unframed and will arrive in a flat portfolio.
Charley Harper
Vowlentine, 1985
Serigraph print, editions 189/1000 and 190/1000
RAM MEMBER PRICE: $180
---
We Also Recommend