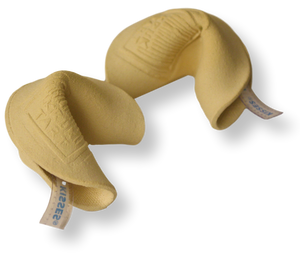 Charlotte Kruk—Clay Fortune Cookie
Now on sale! Was $25, now only $5!
Charlotte Kruk uses recognizable consumer packaging—such as gum and candy wrappers, sugar and coffee bags, and food tins—to create garments and sculptures that reflect our material culture. With both humor and serious intent, she has created a series of vignettes for RAM's Windows on Fifth Gallery in 2015 that included these charming fortune cookies. This fortune cookie is usually a crisp and sugary cookie, but this will never be eaten because it is made out of clay with a small laminated fortune inside. Her signature is embossed on the outside. No two are quite alike and they look great grouped in a bowl on the coffee table or on the kitchen counter.
Kruk has a BFA from San Jose State University, California, and has shown her work nationally in both solo and group exhibitions. Her work has been featured extensively in print and digital media.
Tan, white, and blue
Clay, laminated plastic, paper
2 1/2 x 2 1/2 x 2 inches
---
We Also Recommend