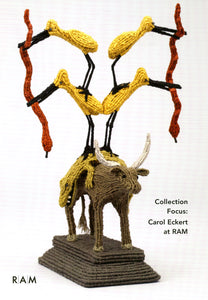 Collection Focus: Carol Eckert at RAM
This Arizona fiber artist creates compelling sculptural narratives using an ancient basketry technique known as coiling. From the exhibition Collection Focus: Carol Eckert, this 20-page catalogue features full-color images of her pieces within Racine Art Museum's permanent collection, an essay on the significance of Eckert's work to the field, and follows her career development.
Read about the artist's love of magic and charm which she infuses in her sculptures by the animals represented—snakes, crocodiles, birds, and dragons. Her stories are populated with a menagerie of animals—both real and mythical. The creatures themselves, as well as her non-functional baskets and books, wall reliefs and staffs that they adorn, are constructed of a thin copper wire wrapped with embroidery floss.
20 pages
Softbound
© 2010
Racine Art Museum
RAM MEMBER PRICE: $4.50
---
We Also Recommend