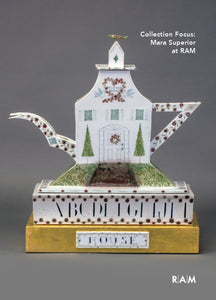 Collection Focus: Mara Superior at RAM
Blending past and present day concerns, notions of Americana, and personal experience, Mara Superior playfully both challenges and adds to a history of porcelain decorative objects and tableware. With a singular aesthetic that feels reverent yet unique, Superior builds narratives that unfold through images, words, and form.
Collection Focus: Mara Superior—open August 18, 2021 through January 15, 2022 at RAM—debuts a multi-piece gift from the Kohler Foundation, Inc., that catapults RAM's holdings of work by Superior from two pieces, already gifted by other donors, to 33. In doing so, this gift establishes several milestones for Superior at RAM—making her an archive artist as well as the most collected female ceramic artist and the second most collected ceramic artist regardless of gender.
This full-color, 20-page exhibition catalogue features an essay on the significance of Superior's work by RAM Curator of Exhibitions Lena Vigna, as well as an interview with the artist conducted by Bruce W. Pepich, RAM Executive Director and Curator of Collections.
Softbound
© 2021 Racine Art Museum
---
We Also Recommend