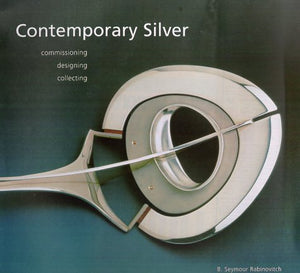 Contemporary Silver: Commissioning, Designing, Collecting
From the minimal simplicity of the purely functional, to the lavish ostentation of the truly baroque, these pieces utilize elements of sea life, Scandinavian design, Florida Art Deco, eighteenth-century Rococo, and totemic, timeless symbols of the natural world to forceful effect. Whether entirely abstract or startlingly representative, what these pieces have in common is the immense technical mastery that has gone into their design and construction—as well as the fact that, no matter how fantastic their appearance, they are all for practical use. Each piece in the collection is lavishly illustrated in color with a specially commissioned photograph and accompanied by an account of the work's conception.
Designers and makers, curators and collectors, craft writers and historians, and just about anyone interested in beautiful imagery will appreciate the information and inspiration within this volume.
160 pages
9 3/4 x 9 3/4 inches
© Merrill, 2000
RAM MEMBER PRICE: $27
---
We Also Recommend