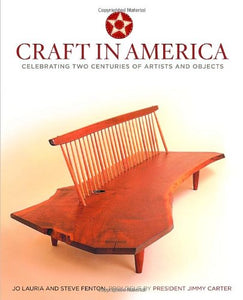 Craft in America: Celebrating Two Centuries of Artists and Objects
For two centuries, Americans have made stunning, utilitarian objects by hand. Each tells a story—about the person who laid his or her hands to the work; about the historical moment in which it was created; and about the political mood, community, and cultural forces that gave rise to that design.
The only book of its kind and the companion book to the PBS series of the same name, Craft in America highlights the work of America's most intriguing craftspeople past and present. Illustrated with more than 200 commanding images and signature objects from furniture, wood, ceramics, and glass to fiber, quilts, jewelry, metal, and basketry, this definitive work shows how crafts, long admired for their marriage of functionality and creativity, also reflect our nation's history and the remarkable people who passed on their traditions.
The last two hundred years have brought extraordinary transformation to America—not just in the landscape and culture but to the myriad communities that crisscross the continent. Organized by the societies in which our many construct traditions originated, Craft in America introduces the virtuoso craftspeople who expressed and elevated the values and ideals of their groups—ideals that have become quintessentially American. Visceral, important, and seductively beautiful, and with a prologue from former president Jimmy Carter, Craft in America highlights some of the most important American objects. In these pages, you will discover how handcrafted objects are not only essential to daily life but how they are also a culture's tribute to its own character and place in history. They embody the desire to remember, reflect, and connect, serving as bridges among individuals, community, and the environment.
320 pages
RAM MEMBER PRICE: $40.50
---
We Also Recommend