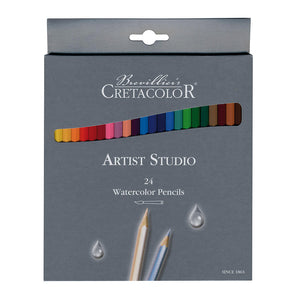 Cretacolor Artist Studio Watercolor Pencils, Set of 24
The Artist Studio Watercolor Pencil captivates with its brilliant colors, soft stroke, rich pigmentation, and exceptionally high lightfastness ratings; however, its true distinction reveals itself when dissolved with water—clear lines flowing into smooth transitions, producing fluid watercolor washes. This box of pre-sharpened non-toxic pencils features 24 rich and distinctive colors.
Made in Austria where all its products have been manufactured for over two hundred years. Cretacolor products are internationally recognized as being of very high quality, with high color intensity, rich color laydown and superior lightfastness.
RAM MEMBER PRICE: $18
---
We Also Recommend