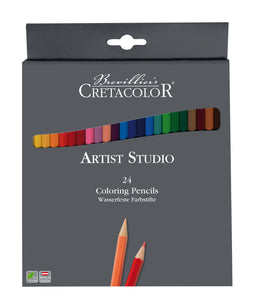 Cretacolor Artist Studio Colored Pencils, Set of 24
Now on Sale!
The Artist Studio line offers exceptional quality colored pencils, pre-sharpened, in a boxed set of 24. They are brilliant colors with a buttery smooth stroke. The colors can be mixed with one another to achieve numerous shades. They have a high lightfast rating.

For two hundred years Austria's Cretacolor has been known throughout Europe for manufacturing the highest quality drawing materials. They are credited with the invention of modern graphite lead and have used their two centuries of experience to create the most comprehensive range of artist-quality drawing materials in the world.
---
We Also Recommend