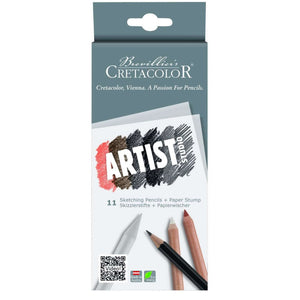 Cretacolor Sketching Pencil + Blending Stump
This foundation set includes the essential tools needed for any drawing class or home studio. Contains an HB, 2B, and 4B graphite pencils, a soft, medium, hard and an extra-soft charcoal pencils, one white chalk pencil, a sepia pencil and a Sanguine pencil. One paper stump is included for blending. You won't believe how easy it is to fill an entire sketchbook with these pencils in-hand!

For two hundred years Austria's Cretacolor has been known throughout Europe for manufacturing the highest quality drawing materials. They are credited with the invention of modern graphite lead and have used their two centuries of experience to create the most comprehensive range of artist-quality drawing materials in the world.
RAM MEMBER PRICE: $14.40
---
We Also Recommend