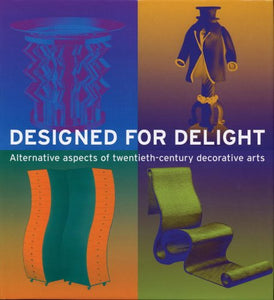 Designed for Delight: Alternative Aspects of Twentieth-Century Decorative Arts
By the early part of this century, the principles of Modernism in design—simplicity of form, little or no ornament, truth to materials—were established as avant-garde ideas, and functionalism soon became an overriding concern. However, looking back from our fin-de-siècle perspective, it is evident that the history of modern design is far more varied and complex. This lavishly illustrated and beautifully designed book demonstrates the surprising ways in which Modernist designers also took alternative routes to create art beyond function.
From Art Nouveau and the Wiener Werkstätte to Pop and Post-modernism, Designed for Delight presents over 200 works from the collection of the Montreal Museum of Decorative Arts, in all media, focusing in particular on four aspects of the decorative arts through objects and essays. "Body Language" explores the ways in which the human body and its various parts have been used as elements of design. In "Inversion and Transformation" we see how materials have been unexpectedly inverted. Contrary to the accepted notion that Modern design should be devoid of ornament, the richly decorated surfaces and textures of objects in "Is Ornament a Crime?" argue for the everlasting appeal of floral and geometric patterns. Fantasy and illusion have been equally compelling, and "Flights of Fantasy" demonstrates how twentieth-century artists and designers incorporated the fantastic and even the irrational into their work.
© 1997 Flammarion
Hardcover
320 pages
11 x 12 inches

RAM MEMBER PRICE: $40.50
---
We Also Recommend