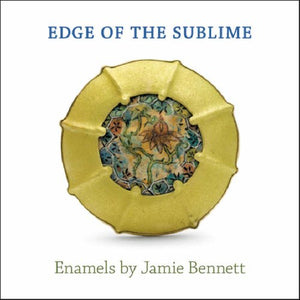 The Edge of Sublime: Enamels of Jamie Bennett
Jamie Bennett is Professor Emeritus of the State University of New York at New Paltz Metal/Jewelry Program, which he directed from 1986 to 2014. Recognized in 2016 with the James Renwick Alliance's Outstanding Educator Award, Bennett is a three-time recipient of the National Endowment of the Arts Fellowship, and has been awarded three New York Foundation for the Arts Fellowships as well as the Aileen Osborn Webb Award for Fellow of the American Crafts Council. Bennett's retrospective exhibition Edge of the Sublime: The Enamels of Jamie Bennett traveled throughout the US from 2007 to 2010, supported by grants from the Windgate Foundation and the Rotasa Foundation. His work is in the permanent collection of over twenty-five museums internationally, including the Metropolitan Museum of Art, New York, the Victoria and Albert Museum, London, the Musee des Arts Decoratifs, Paris, Hermitage Museum in St. Petersburg, Russia and the Racine Art Museum, WI.
One of the pre-eminent enamellists in the world, Bennett's work is known for its innovative use of color and deep engagement of material and process. His participation in many pioneering exhibitions such as American Masters at the Victoria and Albert Museum; Jewellery Moves at the National Museum of Scotland; New Times, New Thinking Jewellery in Europe and America at the National Museum of Whales underscore his influence and impact in contemporary jewelry.
A beautifully illustrated paperback catalogue of over 100 color plates, this book addresses the artist's lifework who first established his international reputation in 1986 when he produced enameled jewelry using unique, electroformed shapes.
Patricia C. Phillips, professor and chair of the Department of Art at Cornell University, writes the text.
144 pages
10 1/2 x 10 1/2 x 4/5 inches
RAM MEMBER PRICE: $31.50
---
We Also Recommend