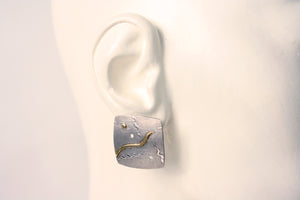 Eleanor Moty—Square Earrings
Moty is widely recognized for her interest in new techniques and interdisciplinary approaches to jewelry making. She is an authority on electroplating and photo-etching, processes on which she has published and lectured extensively. Her subtle, immaculately crafted work is inspired by architecture, geometry, chemistry and art.
Trained as a metalsmith and an artist, Moty received her BFA from the University of Illinois and her MFA from Tyler School of the Art, Temple University. Recently retired from a professorship at the University of Wisconsin, where she taught for 28 years. She is the subject of numerous articles and is represented in the permanent collections of the Philadelphia Museum of Art, The Museum of Fine Arts, Houston, the National Museum of American Art, Smithsonian Institution, in Washington D.C., and the Racine Art Museum. She is the recent focus of Quiet Elegance: The Jewelry of Eleanor Moty, a 2021 hardcover monograph.
These square shaped earring are sterling silver with an 22K gold applies on the surface. Random marks on the surface of the sterling catch the light in a variety of ways. These smart and stylish earring are the ones you will wear over and over.
Sterling silver and 22K yellow gold
1 x 1 inches
RAM MEMBER PRICE: $324.00
---
We Also Recommend