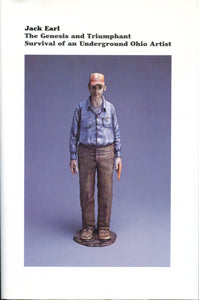 Jack Earl: The Genesis and Triumphant Survival of an Underground Ohio Artist
Jack Earl is often described as a "storyteller in clay," and author Lee Nordness made sure to tell this stoyteller's story in an intimate, informative, and occasionally hilarious account.

A native of Ohio, Earl lived in a town that even other Ohioans call remote.  He eventually ventured out of Ohio long enough to teach at Virginia Commonwealth University, but now continues to live and work in his home state.
Eight years after deciding he had a talent for making things in clay, Early finally saw his "things"—now called ceramic sculptures—exhibited in museums in the United States and Europe, and showcased on the covers of art magazines. Art critics almost always feel drawn to employing humor and a homespun vocabulary in critiques of Earl's work, which speaks literal volumes about the artist's contributions to the fine arts world.
This softcover book was printed in a limited run and features 102 illustrations—both color and black and white—throughout the volume.
Designed by Walter Hamady, Perishable Press
Softcover
222 pages
9 x 6 inches
RAM MEMBER PRICE: $31.50
---
We Also Recommend