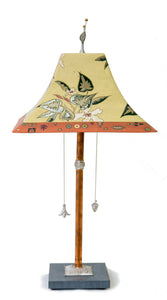 Janna Ugone—Square Shade Lamp
Janna Ugone is nationally known for her handmade lamps that combine handcrafted metal lamp bodies, playful finials, and imaginary pull chains. They have glazed ceramic shades perforated with tiny holes to let light out, pewter finials and pulls, and copper shafts. She combines her interest in decorative detail with interpretations of nature in subtle color arrangements that make these lamps a comfortable fit in any décor style. Each lamp is individually made, signed, and dated.
Ugone has had an active career since her first New York show in 1987. Her work is now represented in 250 galleries, lighting studios, and design shops.
Brown, green, and beige
Ceramic, slate, copper, pewter
26 x 13 1/4 inches
RAM MEMBER PRICE: $630
---
We Also Recommend