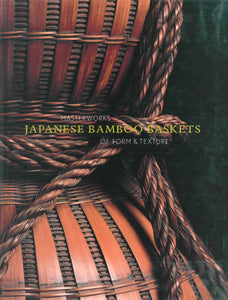 Japanese Bamboo Baskets: Masterworks of Form and Texture
Japanese Bamboo Baskets: Masterworks of Form and Texture surveys nineteenth- and twentieth-century baskets of Japan, their place in history, and the elevation of bamboo craft to an art form. Published in 1999 by the Cotsen Occasional Press and edited by Joseph N. Newland, it includes essays by Lloyd E. Cotsen, Patricia J. Graham, Hiroko Johnson, Janet Koplos, and Moroyama Masanori. Additional contributions from Robert T. Coffland, Matsuzawa Kazuyoshi, Dale Slusser, and Carol Webb.
This book was released in conjunction with the opening of a traveling exhibition titled Bamboo Masterworks: Japanese Baskets from the Lloyd Cotsen Collection. The exhibition was presented at five museums in the United States and five in Japan, including the Asia Society, New York; the Asian Art Museum, San Francisco; the Field Museum, Chicago; the Pacific Asia Museum, Pasadena; and the Honolulu Art Museum.
More than 250 Japanese bamboo baskets from the Cotsen Collection—the largest privately held group in the world—are featured in Masterworks of Form and Texture. This is the first English book to examine bamboo baskets as modern sculptural masterpieces, as well as chronicle the development of Japanese flower-arranging baskets from utilitarian containers through their subsequent transformation into art. At the heart of this volume are dramatic portraits of works in the Cotsen Collection by photographer Pat Pollard. Full-page and double-page illustrations abound. Large-scale details and second views evoke the forms, textures, and three-dimensionality of the baskets, revealing their monumentality and the architecture of their construction. The baskets illustrated were selected primarily for their visual qualities, are organized by region and range from an 1890s example by the first basket maker to sign his work to twentieth-century creations by young bamboo artists.
14 3/8 x 11 1/2 inches
391 pages
RAM MEMBER PRICE: $1,350
---
We Also Recommend