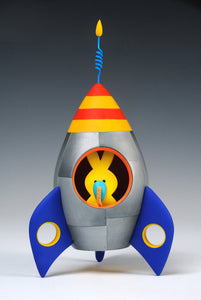 Jeffrey Lloyd Dever—Peeps in Space
Jeffrey Lloyd Dever created Peeps in Space for the RAM 11th Annual International PEEPS Art Exhibition. A beautifully crafted polymer spaceship transports a brave yellow Peep astronaut into the vast reaches of outer space. Safe travels, little Peep!

Dever's work is collected throughout the United States and is in the collection of the Racine art museum. He is founding partner and creative director of Dever Designs in Laurel, MD. He served on the contract/adjunct faculty of Maryland Institute College of Art for 20 years, where he taught illustration and graphic design. As an instructor, he has taught classes across North America and in Europe where he enjoys sharing his pioneering techniques.
This spacecraft would look fabulous on any bookshelf at home, and the proceeds will directly support the museum thanks to Dever's donation.

---
We Also Recommend