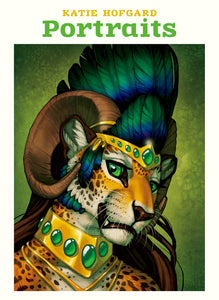 Katie Hofgard Notecards, Set of 20
Katie Hofgard's digital paintings are built upon a love of nature, animals, and fantasy. Individuals commission her to paint their portrait in the character they use online. She depicts different kinds of animals who each represent the online personality of the commissioner, expressing the persona of that unique character. This results in strikingly different renditions of animals with human-like personality characteristics.  
Hofgard trained at the Rocky Mountain College of Art and Design, where she received a BFA in Illustration and transitioned from painting on canvas to painting digitally.
Four of Hofgard's stunning paintings are reproduced as blank notecards in this 20-card boxed set. Printed on recycled paper, there are five examples of each work in a 5 x 7 inch format.  
RAM MEMBER PRICE: $13.50
---
We Also Recommend