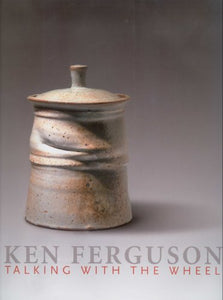 Ken Ferguson: Talking with the Wheel
Ken Ferguson (1928–2004) was a noteworthy American ceramist. He managed the Archie Bray Foundation for the Ceramic Arts in Helena, Montana from 1964 to 1996, and was the chair of the Ceramics Department at the Kansas City Art Institute from 1958 until 1964. His students included Chris Gustin, Richard T. Notkin, Akio Takamori, and Kurt Weiser. Ferguson was known for his stoneware incorporating sculptures of leaping and running hares. Public collections include the Brooklyn Museum; the Carnegie Museums of Pittsburgh; Racine Art Museum; Los Angeles County Museum of Art; MacNider Art Museum; Museum of Arts and Design; Canton Museum of Art; Victoria and Albert Museum; and Honolulu Museum of Art, among others.
Talking with the Wheel provides insights from contributors Garth Clark, John Perreault, Ted Rowland, Peter von Ziegesar, and Ken Ferguson himself. Why does he choose ceramics in the first place? How does a man who fled from art education later become one of the most influential ceramics educators of the twentieth century? The answers to these questions in this 119 page hardcover book inform us about Ken Ferguson's journey as an artist, pedagogue, and agent provocateur.
RAM MEMBER PRICE: $40.50
---
We Also Recommend