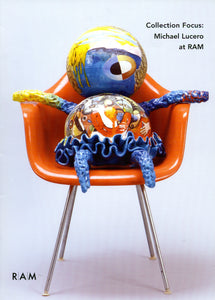 Collection Focus: Michael Lucero at RAM
Be amazed at ceramic sculptor Michael Lucero's handmade composite sculptures representing human figures, but sometimes animal forms. From the exhibition Collection Focus: Michael Lucero, this 20-page catalogue features full-color images of his pieces within Racine Art Museum's permanent collection and follows his career development. Well-known for his painterly elements, Lucero employs painted underglazes and sgraffito on abstracted shapes.
RAM's collection includes pieces from his Pre-Columbus series, which consists of distorted seated figures, glazed in bright colors and painted with environmental scenes juxtaposed with screaming heads and pueblo pottery. Within the New World series and the Reclamation series, the artist incorporated his love of collecting antiques and novelties into his art work. Lucero took 'found' objects and adds to them, creating totally new and compelling works.
20 pages
Softbound
© 2009
Racine Art Museum
RAM MEMBER PRICE: $4.50
---
We Also Recommend