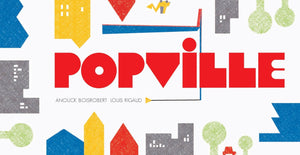 Popville Pop-up Book
Watch houses, apartments, factories, and power lines appear throughout Popville before your very eyes in this ingenious pop-up book. Anouck Boisrobert and Louis Rigaud's 16-page hardcover book showcases a stylish retro design and clever paper engineering, making it a must-have for anyone with even a passing interest in pop-up books.
This Bank Street Best Children's Book of the Year winner from 2011 is suggested for children ages 4 and up.
RAM MEMBER PRICE: $22.50
---
We Also Recommend