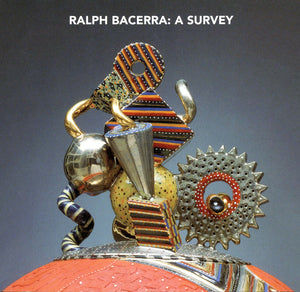 Ralph Bacerra: A Survey, February 2 – March 6, 1999
Ralph Bacerra (1938–2008) was a ceramic artist and career educator who lived and worked in Los Angeles, California. Bacerra was a student at Chouinard Art Institute in Los Angeles, and assumed the position of chairperson of the ceramics department at Chouinard. Bacerra occupied this position there from 1963 to 1971, at which point Chouinard was renamed the California Institute of the Arts, which in 1971, dropped ceramics from the school's curriculum, and Bacerra went to work full-time in his studio. Bacerra is credited with important technological innovation in advanced ceramics, most notably resulting in his development of oven-top ranged surfaces for the Induction Stove Corporation that featured the use of electromagnetic induction. Bacerra returned to teaching in 1983 until 1997, this time accepting an offer from the Otis Art Institute to be chairperson of the ceramics department.
Bacerra's artwork is recognizable by its vivid use of color and contrast, which are the result of a delicate and multi-staged process of overglazing. He is also known for geometrically complicated and technically difficult forms. His decorative aesthetic draws from Asian sources—most notably Japanese Imari and Kutani pieces, Persian miniatures, and Chinese Tang ceramics. Bacerra has insisted upon an absence of metaphor, stating, "There's no meaning or metaphor. I'm committed more to the idea of pure beauty. The finished piece should be like an ornament, exquisitely beautiful."
This 24-page softcover monograph showcases 12 full-color illustrations and the artist's resume. It was published in January 1999 in conjunction with an exhibition of Bacerra's work at Garth Clark Gallery.
8 x 8 inches
RAM MEMBER PRICE: $22.50
---
We Also Recommend