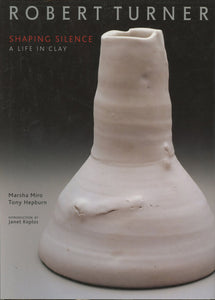 Robert Turner: Shaping Silence—A Life in Clay
Robert Turner (1913–2005) was one of the most important late twentieth century ceramic artists in the United States. Distinguishing himself in the art pottery movement of the sixties, Turner rose to prominence when he moved from functional pieces to sculptural forms and began to create a body of work notable for its dynamic yet serene forms. Turner's life and work had a strong spiritual base. His Quaker beliefs and early pacifist views led to his being stationed in work camps during World War II. After the war, he gained wide recognition when he set up the first ceramic studio at the renowned Black Mountain College in North Carolina, known for its leadership of the avant-garde art movement.
In this first monograph on the artist's long and fascinating career, Marsha Miro has taken a maverick approach with her incisive text, interspersing telling comments from Turner himself with her own explorations of the artist's achievements. Illustrated with pivotal works spanning the artist's distinguished career, Robert Turner—Shaping Silence not only relates the compelling story of a young artist's journey toward formal mastery but furnishes essential documentation on one of the most intriguing periods of the American contemporary craft movement.
Hardcover
160 pages
10 4/10 x 8/10 x 7 6/10 inches
©2003
RAM MEMBER PRICE: $40.50
---
We Also Recommend