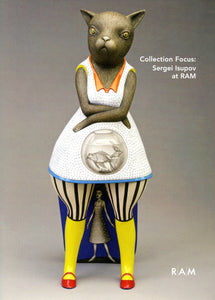 Collection Focus: Sergei Isupov at RAM
View the narrative, imaginative works of Sergei Isupov who is a ceramic artist born in Stavropol, Russia now living in Massachusetts. Part of a series of collections-based exhibitions, Collection Focus: Sergei Isupov was a mid-career retrospective for an innovative artist who has pushed the theoretical and narrative possibilities of clay. 
In addition to full-color images of the Isupov's pieces in Racine Art Museum's permanent collection, this 28-page catalogue includes essays on the significance of the artist's work to the ceramic field from Lena Vigna, RAM Curator of Exhibitions and Anthony Stellacio, Project Manager and Curatorial Research Specialist, Smithsonian, National Museum of African Art. In addition, a conversation between Bruce W. Pepich, RAM Executive Director,  and Leslie Ferrin, gallery owner and curator, explores the dynamic, supportive relationship between Ferrin and Isupov.
Isupov's figurative ceramics are both instantly recognizable and strangely surreal. Tattooed forms and heads merge into other heads; proportions are distorted but the drawn surfaces are illustrative and narrative at the same time. The sculpting is meticulous and controlled. The figures and heads can be realistic, perhaps minimal, yet the paintings on them are surreal, highly detailed, and often adding a skewed dimensionality. Isupov's works create a world that is visually stunning and conceptually disturbing.

28 pages
Softbound
© 2014
Racine Art Museum
RAM MEMBER PRICE: $4.50
---
We Also Recommend