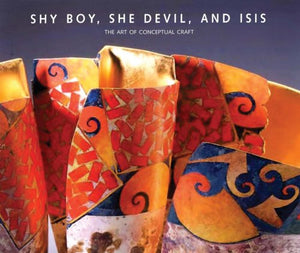 Shy Boy, She Devil, and Isis: The Art of Conceptual Craft
California collectors Ronald C. and Anita L. Wornick are the focus of Shy Boy, She Devil, and Isis: The Art of Conceptual Craft This hardcover text captures an exciting shift in the evolution of contemporary sculptural arts. Beginning in 1985, the Wornicks assembled a major collection of contemporary decorative arts, primarily by Americans but also including European, Australian, and Asian artists.
This collection features works created after 1980 and represents a coming of age of the studio craft movement across the world. Working in clay, glass, metal, wood, and fiber, the 107 artists featured in this book--including Dale Chihuly, Viola Frey, Peter Voulkos, John Cederquist, and Mary Van Cline—are distinct in their move away from the functional and toward the "purely" sculptural. Matthew Kangas' introductory essay notes how these works surpass and overturn the arbitrary, misleading category of craft, while Gerald W. R. Ward and Julie Muñiz discuss the material innovations shown by these artists, whose works, taken together, define the cutting edge of craft. The pieces in Shy Boy, She Devil, and Isis exemplify the skills and individualities of their makers; as a group, they suggest a bold conceptual shift and an erasure of the boundaries separating craft from fine art.
Published in 2007.
256 pages
RAM MEMBER PRICE: $49.50
---
We Also Recommend