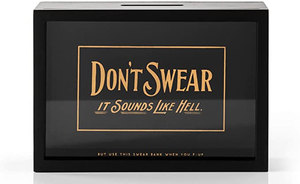 "Don't Swear, It Sounds Like Hell" Coin Bank
Was $25, now only $12!
Whoever said that swearing doesn't pay off? So do what you love, and save money all at the same time. This swear bank by Brass Monkey features a glass front (with gold foil art) and a slot for coins on the top. It is even hangable. Bonus: it comes in a giftable box, ready to be presented to your favorite person (yourself is a valid option).
The black wooden design and gold embellished lettering on the glass front of the bank make it easy to see all the funds you gave. This bank also includes a hidden slide-out panel (to get your damn change back), and can even be hung on a wall.
6 3/4 x 4 7/8 x 2 inches
---
We Also Recommend