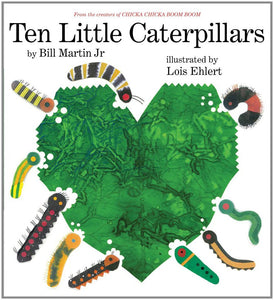 Ten Little Caterpillars
Readers of all ages have celebrated the work of author Bill Martin Jr. and illustrator Lois Ehlert ever since their first collaboration on Chicka Chicka Boom Boom more than twenty-five years ago. Now these two picture-book geniuses are together again in this dynamic and visually stunning counting-and-natural history picture book that's just perfect for reading aloud—and comes complete with a glossary filled with intriguing information about all of the caterpillar stars!
Ten little caterpillars are out and about in our world—come join them! One by one as they wiggle up flowers, climb on cabbages, and get carried off to school. One lucky little leftover manages to crawl up a tree where he attached himself to a branch, spins his cocoon and emerges as…a beautiful butterfly.


By Bill Martin Jr. and illustrated by Lois Ehlert
11 1/4 x 10 1/4 x 1/2 inches
31 pages
Hardcover
© 2011

RAM MEMBER PRICE: $16.20
---
We Also Recommend