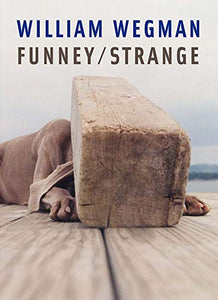 William Wegman: Funney/Strange
William Wegman: Funney/Strange provides a comprehensive and intriguing look at the witty and sophisticated art of William Wegman, beloved by the general public and held in critical esteem within the international art world.
A pioneer video-maker, conceptualist, performer, photographer, painter, draftsman, and writer, Wegman moves fluidly among various media. He is a conceptual artist with commissioned magazine shots and even videos shown from museums to television segments made for Sesame Street and Saturday Night Live. His artists' books parody nineteenth-century naturalist studies while his children's books reveal tongue-in-cheek portraits of town and country life. His photographic landscapes—employing his canine muses in his most recent cycle of landscapes—combine found scenic souvenir postcards with drawing, collage, and painting. Wegman's work is universally appealing.
William Wegman: Funney/Strange is illustrated with some 250 images. It is the first retrospective volume to consider the artist's entire career from the 1960s to the 2000s and is an essential book for any fan of Wegman's work.
RAM MEMBER PRICE: $18
---
We Also Recommend