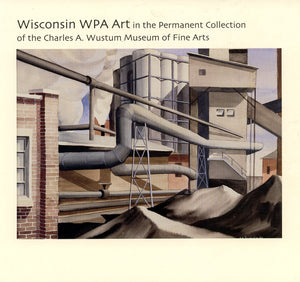 Wisconsin WPA: Exhibition Catalogue
Explore the unique artworks created during the Works Progress Administration period in Wisconsin and the beginnings of the Wustum Museum and its first director, Sylvester Jerry, who had worked as a supervisor for the WPA art program. From the exhibition Wisconsin WPA Art in the Permanent Collection of the Charles A. Wustum Museum of Fine Arts, this 48-page publication opens with an essay by RAM Executive Director Bruce W. Pepich and Caren Heft. It features images of WPA works in Racine Art Museum's permanent collection along with the artist's biographies including Santos Zingale, Ruth Grotenrath, Forest Flower, Schomer Lichtner and others.
Working with state and local governments, the WPA was a national program that provided jobs and income for many unemployed during the Great Depression of the 1930s. When RAM's Wustum Museum first opened in 1941, it did not have a permanent collection. Any of the work on display in the galleries was borrowed from artists, collectors, and other museums as short term loans. This changed, and Wustum became an institution with an art collection, when Jerry was able to obtain over 260 works produced through the Federal Art Project (FAP) of the WPA. 
48 pages
Softbound
© 1998
Wustum Museum of Art Association, Inc.
RAM MEMBER PRICE: $4.50
---
We Also Recommend