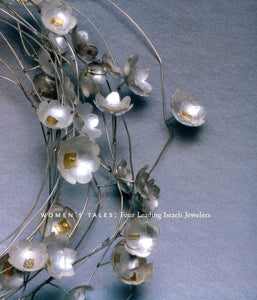 Women's Tales: Four Leading Israeli Jewelers
This catalog accompanied the exhibition which showed at both the Racine Art Museum and the Israel Museum in Jerusalem. The exhibition focused on artists Bianca Eshel-Gershuni, Vered Kaminski, Esther Knobel, and Deganit Stern Schocken. It includes essays by Alex Ward, Davira S. Taragin, and Helen W. Drutt.
Each of these artists has played a major role in forging an Israeli identity in the contemporary jewelry movement, one that is distinctive from Europe and America. In fact, their work has brought international recognition to a country that has been largely unrecognized for its contribution to contemporary jewelry. While all four jewelers have looked abroad for inspiration and participated in Europe's New Jewelry movement with its focus on nonprecious materials, their work is uniquely autobiographical, reflecting that all are women, wives, and mothers living in Israel and all are strongly impacted by its culture.
10 4/10 x 10 2/10 x 7/10 inches
128 pages with color images of each artist's work
© 2006
RAM MEMBER PRICE: $45 Hardcover; $31.50 Softcover
---
We Also Recommend