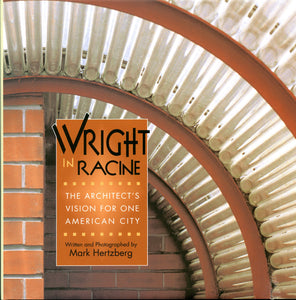 Wright in Racine: The Architect's Vision for One American City by Mark Hertzberg
Racine's master buildings by American architect are featured in this all-encompassing book, featuring in-depth discussions on Wingspread (1938–39); the SC Johnson Administration Building (1936); the Research Tower (1950); Hardy House (1905); and Keland House (1959).
Author and photographer Mark Hertzberg punctuates his lively, personalized account with anecdotes from people who worked or lived in Wright's creations with inviting color photographs. Introduction written by one of Wright's first apprentices, Edgar Tafel. 
8 1/4 x 8 1/4 x 5/8 inches
95 pages
Hardcover
© 2004
RAM MEMBER PRICE: $22.50
---
We Also Recommend