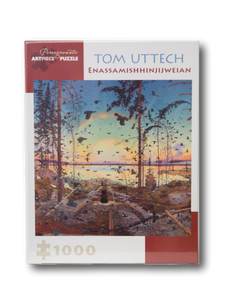 Tom Uttech—Enassamishhinjijweian Puzzle, 1,000 Pieces
Nationally known Wisconsin artist Tom Uttech creates stunning paintings that celebrate the natural abundance and diversity he finds in nature while evoking a spiritual connection with the wilderness the artist shares with the viewer. From treks through unspoiled forests in Wisconsin and Ontario, the artist gleans impressions later expressed in monumental landscapes such as Enassamishhinjijweian (Ojibwe for "hope of good things to come").
This 1,000-piece puzzle reproduces the painting in intricate detail. Teeming with life, optimism, and a sometimes improbable congregation of species, this puzzle is suitable for both novice and accomplished puzzle workers. The completed puzzle will inspire a deeper care of the natural world and may be difficult to put away when completed!
Completed puzzle: 25 x 25 inches
RAM MEMBER PRICE: $18.90
---
We Also Recommend