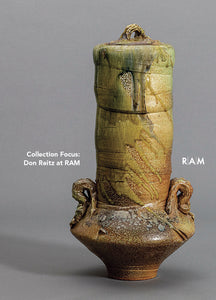 Collection Focus: Don Reitz at RAM
Don (Donald) Reitz (1929–2014) holds a special place in contemporary craft, particularly in ceramics. Not only did he reinvigorate salt- and wood-firing techniques, but he was also a beloved figure who inspired numerous artists and collectors.
Collection Focus: Don Reitz—open September 20, 2023 – February 3, 2024—underscores the Racine Art Museum's commitment to chronicling the career of Reitz, who spent 1962–88 living and working in Wisconsin while actively teaching as faculty at the University of Wisconsin–Madison.
This full-color, 16-page exhibition catalogue features an essay on the significance of Reitz's work by RAM Curator of Exhibitions Lena Vigna as well as an interview with major donors Leatrice S. and Melvin B. Eagle conducted by Bruce W. Pepich, RAM Executive Director and Curator of Collections.
Softbound
© 2023 Racine Art Museum
---
We Also Recommend